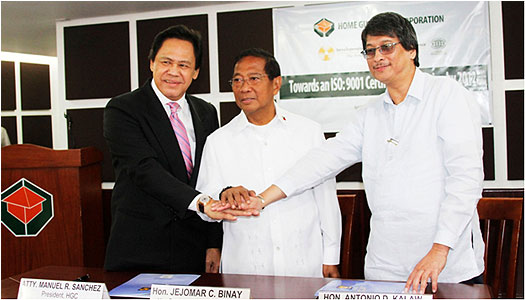 All set. HUDDC Chairman VP Binay, HGC President Atty. Manuel R. Sanchez and Development Academy
of the Philippines President and CEO Antonio D. Kalaw kick-starting the road towards ISO certification
for HGC.

Pursuant to Executive Order No. 605, directing all government instrumentalities to adopt ISO 9001:2008 Quality Management Systems, the Home Guaranty Corporation (HGC) started the process of ISO certification in March 2012.

HGC applied for the certification of its three Guaranty processes: Application for Guaranty; Guaranty Enrolment; and Guaranty Call.

TÜV Rheinland conducted Stage 1 of the Final Audit on February 22, 2013. HGC successfully passed Stage 1.

On March 7, 2013, HGC's ISO Core Group, together with the support staff, spent the entire day defending the three Guaranty processes in the Stage 2 of the Final Audit.

TÜV Rheinland will present the ISO Certification to HGC Management on April 5, 2013, at the celebration of HGC's 13th Charter Day. Subsequently, a more formal presentation of the ISO seal will be carried out in Malacañang by His Excellency President Benigno S. Aquino, III.

HGC President, Atty. Manuel R. Sanchez credits the vice presidents, managers and every single HGC staff for this achievement.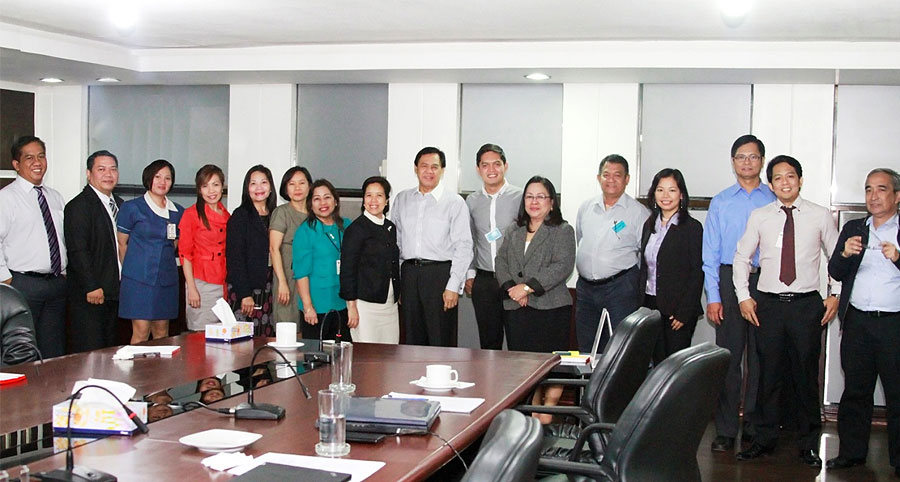 HGC management led by its President, Atty. Manuel R. Sanchez poses with TÜV Rheinland Team of Auditors after the Stage 2 of the Final Audit for ISO 9001:2008.